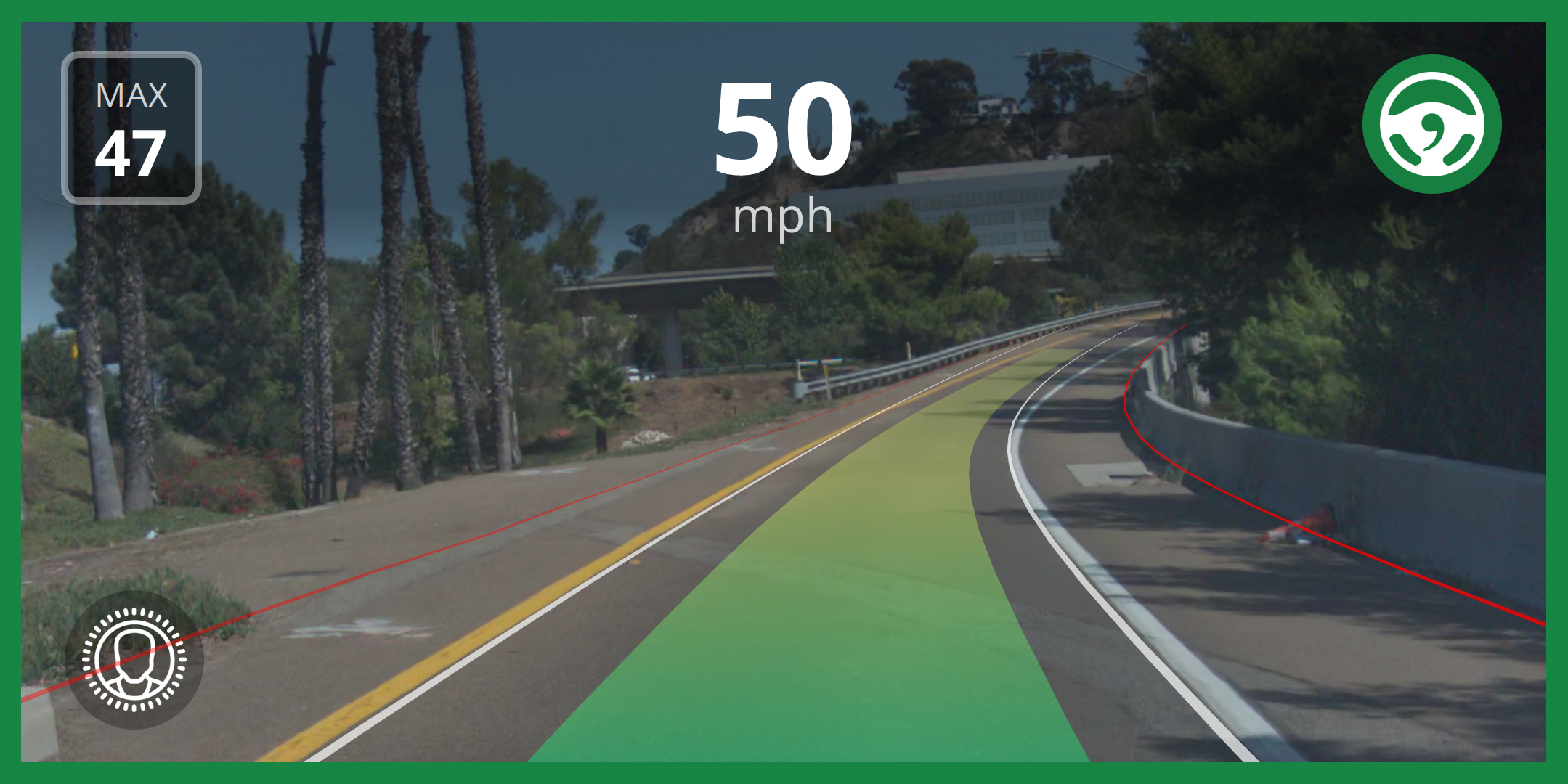 DM model
TODO: weixing
Disengage on Accelerator Toggle
TODO: adeeb + shane
No disengage on accelerator was probably the most widely-requested feature from the community, and in this release, it's now happily a part of stock openpilot as a toggle.
Safety and reliability was a large focus while preparing for this feature, and along the way multiple car bugs were found and fixed. We also added more car safety around longitudinal control and added a new OpenpilotState called overriding to visually communicate openpilot's state while the accelerator pedal is pressed.
panda safety
Bug fixes
GM: panda was blocking ACC messages when pressing the accelerator pedal causing cruise faults (commaai/panda#914)
Honda Nidec: Fix ACC message which caused unintended acceleration when the accelerator pedal is pressed (#24028)
MTBF Report
TODO: adeeb
Immediate disables
accFaulted
brake unavailable

Honda - blocked msgs https://github.com/commaai/panda/pull/872

canError
controls mismatch

Nissan - https://github.com/commaai/panda/pull/877
GM - https://github.com/commaai/panda/pull/876
Honda ?
Toyota ?

steerUnavailable

Mazda ? seg didn't upload
Chrysler ? seg didn't upload
Cars
Car Stars
We see questions time and time again in the openpilot Discord about what car to buy, or if a certain car provides a good openpilot experience. So we decided to organize cars by support with a project called Car Stars.
Cars are sorted into one of three tiers based on if it supports openpilot ACC, if it can do stop and go, if it can steer to 0 mph, if it has good steering torque, and if it is well-supported. Any car in the Gold tier is going to provide the best possible experience you can have with openpilot, and the rest lack support in one area or another.
We also moved all the static information in CARS.md to live inside openpilot, using information from the same car interface we use to control the car to fill out the supported cars documentation on both GitHub and the website, removing extra work keeping multiple sources of truth up to date.
Check it out here on the website.
Enhancements
Added toggle to disable disengaging on the accelerator pedal (#23977https://github.com/commaai/openpilot/pull/23977)
Hyundai: disallow engagement when no user button press is detected (#24140)
Bug fixes
Torque controller
TODO: harald
comma body
The comma body is our first notcar.
TODO: nice picture or gif TODO: link to body blog post? or is it coming out after this release?
Car Ports
Join the team
We're hiring great engineers to own and work on all parts of the openpilot stack. If anything here interests you, apply for a job or join us on GitHub!