The openpilot team is one of three teams at comma. Our main goal is to provide a stable and highly reliable platform for the research team's models to run on. This includes everything from the OS our devices run to the cars that openpilot drives. We're looking for great engineers who want to work on all parts of that stack.
The openpilot team's main products are openpilot and comma connect. We ship releases to thousands of users every month. Check out our recent release blog posts: 0.8.12 + 0.8.11.
Car Interface Engineer
openpilot supports 150+ cars upstream, and tons more across the fork network. We're looking for a great software engineer to come build infrastructure to effortlessly maintain and expand the fleet. You'll build tools and fix bugs alongside our community. Automotive safety experience is a big plus, but we're open to bringing on a great software engineer who's willing to develop that skillset.
Production Engineer
We want to build incredible consumer electronics. We've shipped tens of thousands of devices so far and want to ship tons more while improving quality and consistency. The hardware team defines the ideal device, and you'll ensure each device manufactured is as close to the ideal version as possible.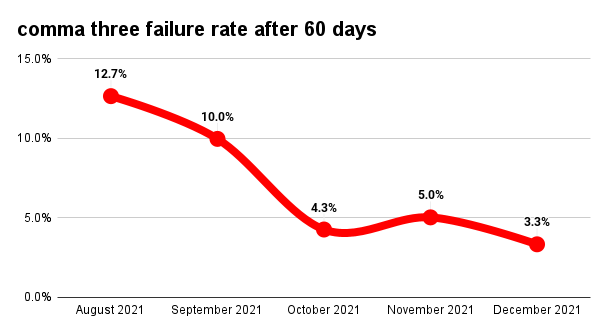 Senior Software Engineer
Cars and production are a small part of the stack the openpilot team maintains. This job covers the rest of that stack, from openpilot to connect to the infrastructure that supports them.
Apply
Pull requests and good solutions to our challenges are the best ways to apply. Or email givemeajob@comma.ai and try our simple screener challenge. See our jobs page for more details.
If you're not interested in a job, join us on GitHub.